ProFile Premier T1 & T1/TP1
Personal Tax Software
Advanced features and functionality to make you more productive. ProFile Premier T1/TP1 (Québec) includes everything in ProFile Basic T1, plus:
8 licenses
File multiple returns at once with batch processing
Link client documents to their tax returns with HyperDocs
Expanded sets of T1 tax forms and worksheets
FREE, front-of-the-line phone & email tech support, year-round1
Batch Processing: Why file one return at a time when you can file multiple returns in one session?
Increase your productivity with Batch Processing. Instead of filing one return at a time, you can file multiple returns in one session.
Plus with ProFile Batch Processing, you can also carry-forward and print multiple returns too, ensuring that your practice is always productive and that you're always getting the most from your time.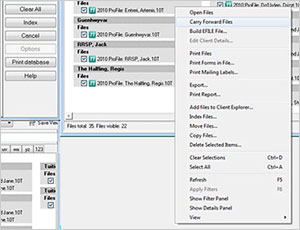 HyperDocs: Helping you go paperless, one file at a time.
Creating, storing and retrieving paper documents can be frustrating and time-consuming. With HyperDocs (available in Premier products only), you can electronically manage and link source documents and working papers to a tax return!
HyperDocs helps you and your office become more efficient and environmentally friendly by going paperless. Why store tons of paper in big filing cabinets, when you can store files anywhere you like (for example, a central server with a backup). HyperDocs also has these helpful features:
Choose to link or embed your documents: Link (storing a reference to a document using its file name) or embed (storing the contents of a document within a tax return file) to your source documents. Why link documents? Whenever the content of the source document is modified, ProFile can show you an updated version of the file you're working on. By linking a file from its original location, a visual reminder lets you know if the source document has been changed so you can synchronize it with your tax return.
Drag & drop: Select, drag and drop documents from Windows to a tax return or to any field in ProFile.
Field linking: Link source documents directly to specific fields within ProFile and access them from fields too.
Thumbnail preview: Hover and click over fields to instantly view a summary of the document linked that field.
Database file management: Search, export, mine & report on your client's personal tax return.
Now this is high-speed client database management. ProFile Premier users can search, export and report on client data – regardless of year or type of return – through our proprietary Client Explorer. Search by client or by situation. Create & save custom searches. Even manage common tasks for multiple clients in one click.
Database file mining lets you instantly mine thousands of client files in seconds. Even preview pertinent details without opening the return, like a client's SIN, phone number, address or business/client reference number.
ProFile Premier gives many impressive tools for smarter client data management. Take on the common tasks for multiple clients simultaneously and save hours.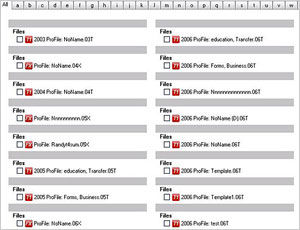 Business comparative summaries: 5 years of history, that can save you hours of work.
With ProFile Premier, you have instant access to the details of 5 years' worth of prior-year returns, without having to leave the return you're working on. That's 2 more years of data than ProFile Basic T1 tax software delivers. Improve your accuracy by spotting potential errors and correcting omissions. Business comparative summaries will help you understand trends and deliver more informed tax & business planning advice to your clients – in a lot less time.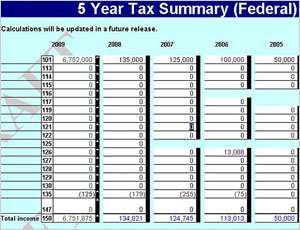 Instantly identify yearly trends for your clients with the T1 Tax Review Worksheet.
Give your clients the added benefit of monitoring any year-over-year variances – without having to spend hours on each return. With user-defined thresholds, this tool will highlight any changes that may require your attention, shortening the review process. And giving you more time to spend offering advice to your clients.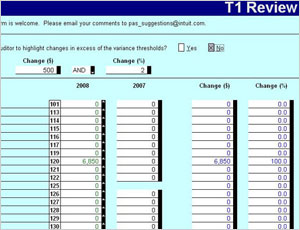 Options administration: Take your customized settings to another level.
ProFile Premier allows you to save customizable global settings in one file folder for easy back-up from a single location. That means that your unique options package is stored separately from the software. So, when you reinstall the program, backup your system or upgrade your computer, you can take those customized options with you.
Configure different ProFile options per computer or per user. And if you're looking for global settings for a network, it's all right there for you. Set global settings across a network that everyone can access through ProFile.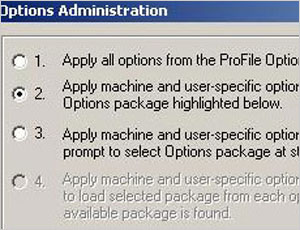 Receive PRIORITY support when you need it.
In addition to the support Basic customers receive (free, year-round technical phone & email support1), Premier customers receive PRIORITY support. Get first-in-queue service, which means your calls are placed at the front of the line.
Ready to buy? Click here