Issue
The status of a return after an EFILE attempt reads as "Failed":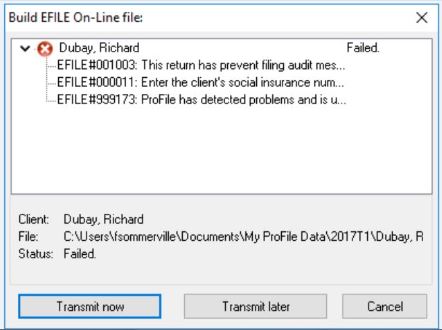 Resolution
1. Double-click on the client's name.
A list of EFILE errors displays indicating reasons why the file failed to build before submissions (for example, EFILE#000011: Enter the client's social insurance number").
2. Address the errors listed.
3. Select the "Properties..." option under the "File" drop-down menu in the top toolbar.
The "Properties" window displays.
4.  Set the option under the "EFILE Status:" drop-down menu to "Eligible".
5. Uncheck the box "CRA Errors".
6. Click the "OK" button.
7.  Save the return.
8. EFILE the return again.
For complete details on how to EFILE T1 returns, view the following guide in PDF format: EFILE T1 returns using ProFile
Get in touch with other Accountants

Follow us on Twitter and Like us on Facebook