Check for usage
You can check the number of remaining returns for OnePays or ProFile 20 licenses by selecting Return Usage in the File menu.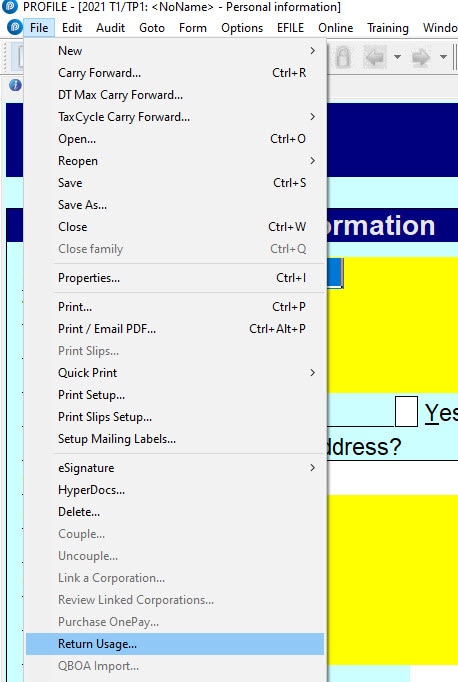 The usage window opens.

In the example above, one return has been used and 19 are remaining. The OnePay tab on the right shows the usage status of activated OnePay licenses. If a file is printed or EFILED the OnePay will be marked as used.

Use a ProFile 20 return
When EFILEing or printing a return, you'll first see a Notice appear that you are about to use one of your 20 returns.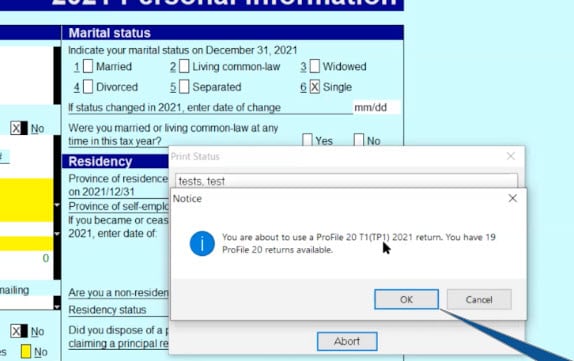 After printing or EFILEing, you will see a status update box notifying you of the number of returns available.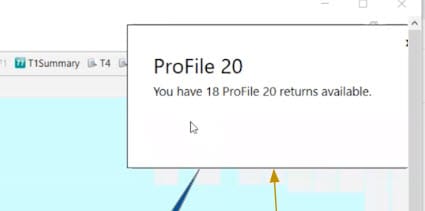 What happens when I use a ProFile 20 license in concert with an unlimited license?
This is not recommended. If a ProFile 20 license is entered, ProFile will use one of those returns if it can be used over the unlimited license.
For example, if you have a 2020 ProFile 20 license entered and a ProFile unlimited license for 2021, a 2020 return will use a return from the ProFile 20 license, but a 2021 return would use the unlimited license as the ProFile 20 license is restricted for 2020 and earlier.