When using the Build PDF feature in ProFile, you can press the email button for an Outlook message popup displaying the attached PDF.
Only Outlook desktop versions 2010 R2 and later are supported. The following platforms are not supported:
Office 365 apps
Other web email apps (e.g. Gmail on a Chrome browser).
Other desktop email apps, including Thunderbird, Mailbird, Windows Live, and others
Handling errors in Outlook
The following is a common error in Outlook: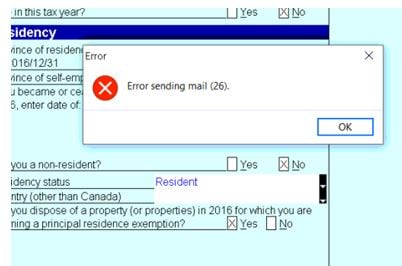 The full error message reads: Error sending mail (26).
The above error can have various causes:
The email is not entered on the Print popup screen in ProFile. Note: If it is a coupled return, ensure you toggle to see if email addresses have been entered for both spouses.
You are using one of the unsupported versions outlined above.
Outlook is not your default mail application. To fix this, close ProFile, and navigate to Start > Default application - Email > Set to Outlook. Reboot your PC and test again.
Outlook is corrupt. Microsoft offers different steps to repair Outlook, depending on your OS and version. Have your IT representative walk you through the steps to repair Outlook.