T5008 slips that are imported into ProFile with the AFR function are now grouped by financial institution and display greater detail than in the previous experience. 
In the Data Import Worksheet
In the screenshot below, you can see that imported slips are now grouped under the issuing financial institution (e.g. 18 slips under HSBC) and that the group may be expanded to display individual slip details within (e.g. under issuer IA).
In this example, we can see that the issuer HSBC has 18 slips grouped under its entry, while the issuer IA has 4 grouped slips that have been expanded for more detail: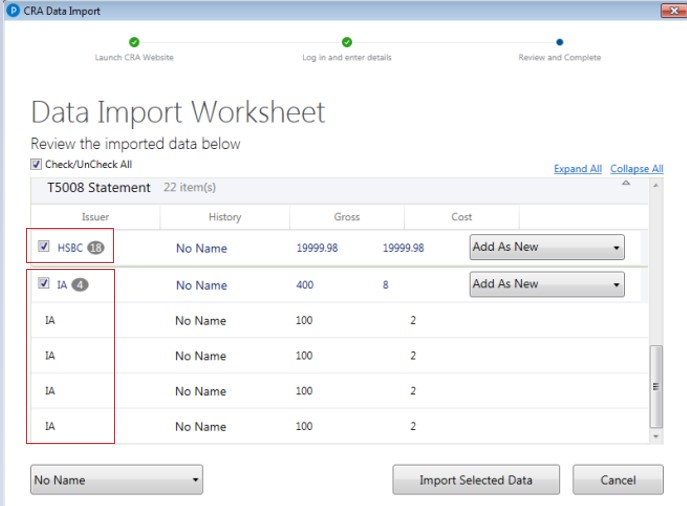 In the Data Import Summary
The Data Import Summary in ProFile now provides additional detail about imported T5008 slips.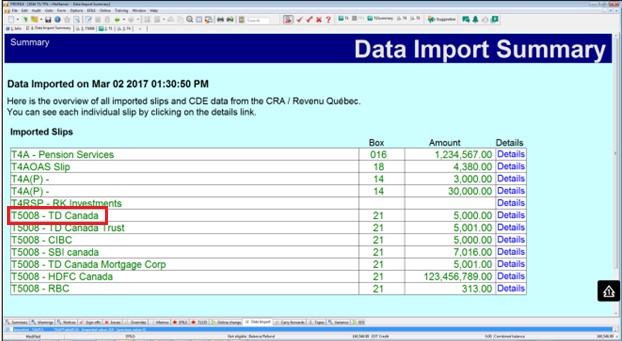 In the T5008 Slip Summary
The T5008 Slip Summary in ProFile provides additional details about imported T5008 slips.
In the new experience, each slip's summary (e.g. Slip #1) now includes the name of the issuing financial institution (e.g. TD Canada), the transaction type, and the individual slip details: