EFILE error #78 indicates that Canada Revenue Agency (CRA) has already received a return with a matching document control number.
The error message displays as follows:
"Error - CRA#78 According to the Canada Revenue Agency's records, the document control number on this record has already been used on an accepted EFILE return."
Resolution
If you believe you haven't already filed a return for the taxpayer, follow these steps to reset the document control number:
In the T1 module, open the form T1EFILE. If you are ecountering this error in a T3 return, open T3EFILE.
Navigate to the bottom of the form and select the Document control number line.
Press <F2> on the keyboard: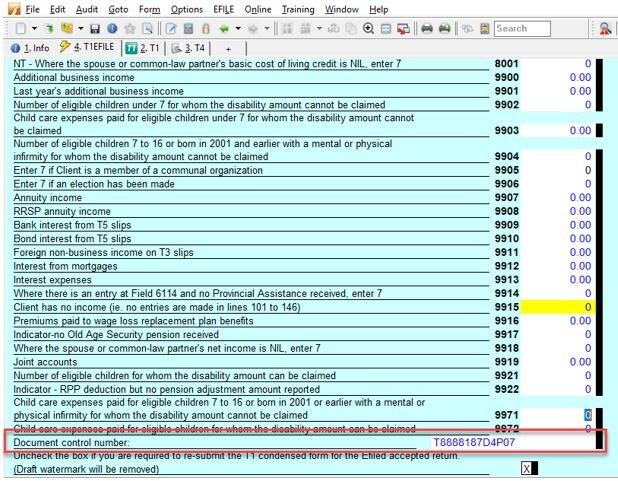 Note: There is no document control number for T2 or FX modules.
The return is accepted if the document control number was a duplicate and no return was previously received for the taxpayer.
Additional troubleshooting
If the return has already undergone EFILE you will receive the following CRA EFILE error:
"Processing Error - CRA# 110 The Canada Revenue Agency's records indicate that a return for this social insurance number and tax year has already been successfully received. If you have not previously filed this return, please contact your EFILE Helpdesk for further details."
If you still believe no return has been filed for the taxpayer, contact your applicable CRA EFILE helpdesk.