Completing a tax return from GIFI
Once the corporation's financial statements have been completed, the corporate tax return from those GIFI amounts can be completed.
  1. Navigate to the Info form.
An option on the Info form instructs ProFile to transfer amounts from the GIFI statements to other fields in a T2 return.
2. Identify the query "Complete return from GIFI?" in the Filing section.
3. Select the "Yes" option (see example "1" below):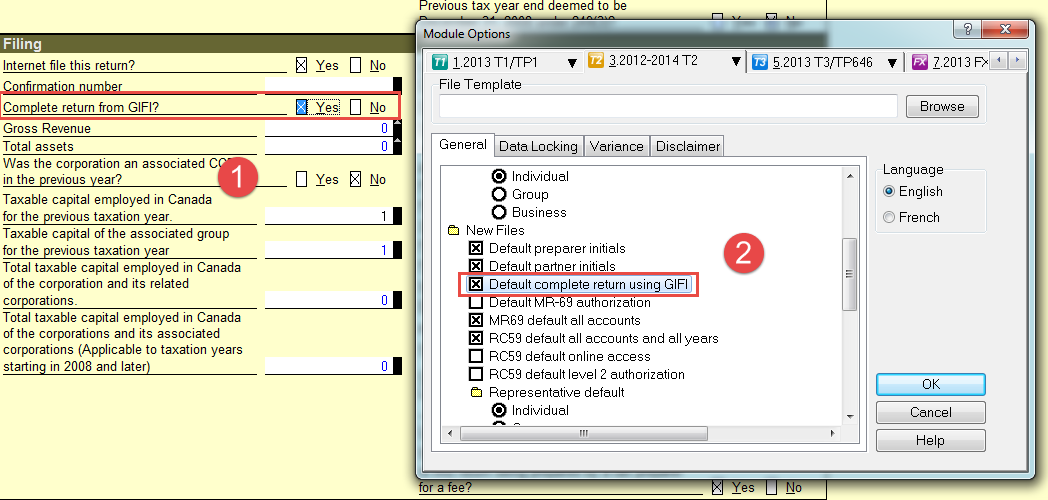 Setting this option as a default when creating or carrying forward a return
1. Select the "Module..." option under the "Options" drop-down menu in the top toolbar.
The "Module Options" window displays.
2. Select the "T2" tab.
3. Select the "General" tab.
4. Navigate to the "New Files" list in the menu (see example "2" above).
5. Select the "Default complete return using GIFI" option.
6. Click the "OK" button.
In the case of losses vs. gains, conditions ensure that ProFile only transfers relevant values. If losses are negative values in the GIFI accounts, ProFile converts these to positive amounts for fields that represent a loss as a positive number.
Additional Steps
If the above effort fails to resolve the issue, a yellow warning highlight may display in the Summary section of the S1 form:

Check if there is blank or second, additional S125 form and address accordingly.