Issue
An "Invalid pointer operation" error message displays: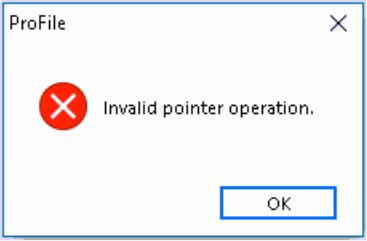 Resolution
Uninstall ProFile
1. Navigate to the Windows "Control Panel"; select "Program", then select "Programs and Feature".
A list of programs loaded on the computer displays.
2. Locate "ProFile" in the program list.
3. Select "ProFile" and click "Uninstall" at the top of the list:

4. Windows prompts for a confirmation; click the "Yes' button:
ProFile confirms that the software has been uninstalled.
5. Reboot the computer.
Install ProFile
1. Navigate to the ProFile website.
2. Download the "gpsetup.exe" file by clicking on the orange button:

3. Your web browser may ask you to confirm if the file download can proceed; click "Yes" or "OK" when prompted. If prompted to select a location to store the installation file, we recommend your computer's "Desktop" or "Downloads" folder, or another easy-to-find folder.
4.  Double-click the downloaded file; the installation begins.
If you are using Windows 8, right-click the file and select the "Run as Administrator" option.
5. Follow the dialogue boxes when prompted to install ProFile.
Note: ProFile may prompt for the Microsoft Visual C++ and/or Microsoft .NET Framework. Those Windows installation must be performed in order for the software to install and run.