Fatal error exception code C0000006 is a networking or network connectivity error. Specifically, the C0000006 Windows 7 error is an in-page I/O error.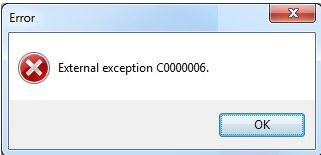 Resolution
For a local installation
Close ProFile.
Reboot the computer.
Undertake a Proreg effort.
If these efforts are not successful, try an uninstall and reinstall of ProFile.
For a workstation installation
Confirm that ProFile is up-to-date on the server and there are no issues on the server.
If there are issues on the server:
3. If there are no issues on the server, confirm how many workstations are affected. If all workstations in the office are affected:
If only a few workstations are affected: