Issue: CRA browser window will not launch
1. Exit ProFile.
2. Close all browsers.
3. Open the Windows Control Panel and select Internet Options.
4. Select the General tab.
5. Check the options Preserve Favourites website data and Cookies and website data only. Uncheck all options and click Delete.
6. Open the default browser and clear the browser cache.
7. Open ProFile.
8. Create a new T1 return and use 123123127 as the SIN number on the return.
9. Select Auto-fill my Return (AFR) under the File dropdown menu in the top toolbar.
10. If the test is successful, attempt the effort again with the client return.
Issue: ProFile fails to import data from CRA
1. Determine if the return is coupled, or has any other returns linked to it (for example, a dependent or spouse).
2. If there are dependents linked to the return, remove them, import, and relink them.
3. If there is a spouse, determine if the preparer is authorized to import information for the spouse, and if the spouse have a valid SIN. In addition, determine if the spouse a Canadian resident.
4. If the answer to any of these questions above is "no", uncouple the return and run AFR for the primary taxpayer again.
Issue: CRA gives error ERR.009
This is not a ProFile error. Contact the CRA individual tax enquiries linefor help resolving this issue.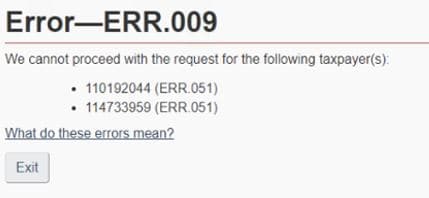 Additional issues to consider:
confirm how many returns are impacted
check the spouse return…is the SIN entered? Is the spouse deceased?
Issue: AFR window not opening
If the CRA import does not open, review this support article to resolve the issue.