ProFile has an auto-save backup feature that keeps a backup of files. In the event of a file getting corrupted, it may be recoverable.
1. Select Open... from the File drop-down menu in the top toolbar.
2. Select Backup from the Files of type drop-down menu.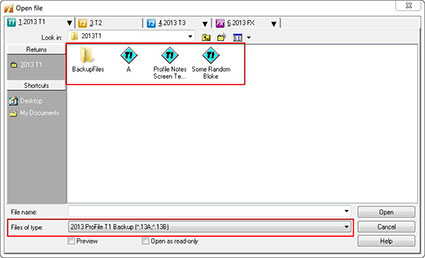 3. Select the auto-saved file (blue icon) or double-click on the BackupFiles folder and identify the backup file inside and select.
4. Click the Open button. The backup file opens.
5. Save the backup return. Select Yes if prompted to replace existing return.
Contact ProFile support for assistance if the error persists.