ProFile T2 Corporate Tax Software
Whether you're an independent or a multi-national firm, ProFile T2 allows you to complete Canadian corporate tax returns with confidence – quickly and easily. Key highlights include:
1 license (with option of purchasing additional licenses)
Unlimited T2 EFILE returns
Comprehensive list of forms, including SR&ED and RAC
FREE access to multiple returns going back a decade
Instant access to 5 years' worth of tax history
Integrated real-time auditor with over 2800 diagnostics
Link source documents and working papers to tax returns
FREE year-round tech support1
ProFile T2

Buy Now
Handle even the most complex T2 returns with our comprehensive forms list.
ProFile T2 includes a comprehensive list of T2 tax forms that covers you from basic small business tax accounting year-ends to the most complex T2 tax returns. And with ProFile, there is no limit to how many returns you can file. Get access to the following T2 forms:
Provincial returns including Federal (T2), AB (AT1), QC (CO-17)
SR & ED forms (including Federal & Provincial Investment tax credit, SR&ED Expenditures Claim Forms)
Related and Associated Corporations (RAC) Worksheet and Summary
AgriStability and AgriInvest
Credit Unit Forms
Foreign reporting forms and Non Resident Corporation forms
Plus many more!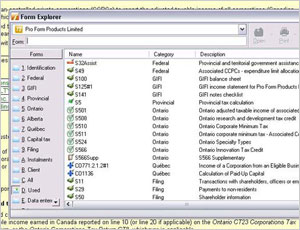 Active Auditor: Diagnose any potential issues in real time.
ProFile's built-in Active Auditor instantly flags errors, omissions, dates & notices – and gives detailed explanations of how to correct the problems. ProFile integrates all diagnostics with the associated T2 return so reviewing returns is a breeze.
Simply scroll through the list and then jump to the corresponding form and field. View the Auditor as a summary or view only specific areas (warnings, memos, etc.). Its sophisticated diagnostics help you catch more mistakes.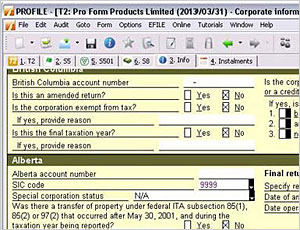 Access multiple years and returns
all from one screen.
Unique to ProFile, the MAUITM (Multiple Application User Interface) feature gives you:
Ability to access different years and different types of returns all from one screen, helping you save time every day.
All prior years included FREE – going back a decade.
There's no need to re-install software every year; just enter your license code and go!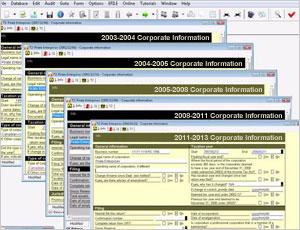 Tax summaries: 5 years of history,
that can save you hours of work.
With ProFile, you have instant access to the details of 5 years of returns, without having to leave the T2 corporate tax return you're working on. Improve your accuracy by spotting potential errors and correcting omissions. Comparative summaries will help you understand trends and deliver more informed tax & business planning advice to your clients – in a lot less time.
Thinking of switching? ProFile's Carry Forward feature helps make it a seamless switch.
If you're currently using other software to prepare T2 corporate tax returns, don't worry – you won't have to start from scratch. ProFile's carry forward feature2 converts from Cantax™ and Taxprep™. ProFile automatically brings forward all the applicable fields and balances from last year to ensure your corporate returns are accurate – and it saves you time.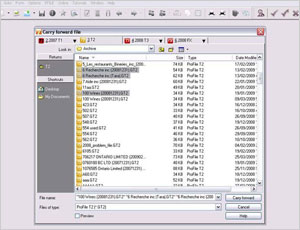 HyperDocs: Link client source documents
to returns.
Manage your documents electronically by linking your clients' documents and working papers to returns or specific fields in return. You can attach or link almost any file format, including Excel, Word, PDF, JPEG, and TIFF. In addition to helping your office become more efficient, HyperDocs allows you to be environmentally friendly by going paperless!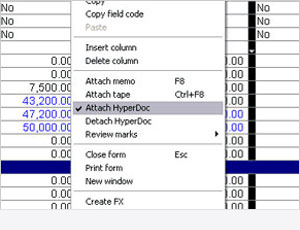 Database file management: Search, export, mine & report on your clients' return.
ProFile's high-speed client database management allows you to search, export and report on client data – regardless of year or type of return. Search by client or by situation. Create & save custom searches. Mine thousands of client files in seconds. Even manage common tasks for multiple clients in one click and preview pertinent details without opening up the return. This sophisticated tool makes for smarter client management!
Email PDF returns to your clients.
Streamline the process of sending personal tax returns to your clients. In the time it takes to hit the 'print' button, you can convert your returns to password-protected PDFs – then email them to your clients.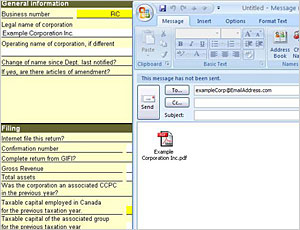 Options administration: Take your customized settings to another level.
Create and save customizable global settings. Configure different ProFile options per computer or per user or set global settings across a network that everyone can access through ProFile. And for easy back-up, save in one file folder. That means that your unique options package is stored separately from the software. So, when you reinstall the program, backup your system or upgrade your computer, you can take those customized options with you.
Tapes & memos: Keep track of all the details.
Our Tapes feature gives you the ability to include an 'adding-machine tape' to any input field and allows you to create a list of amounts and have the final value automatically transferred to the field. And easily enter memos on a field-by-field basis. Plus, review both tapes and memos using the Auditor for a final check.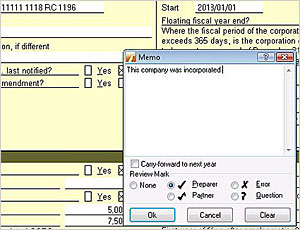 Make your mark with Review Marks.
Use Review Marks to flag items in the return with a single click. It uses standard reviewing and editing marks such as Partner Sign-off, Preparer Sign-off, Correction Required and Question. And all marks are integrated within ProFile's Active Auditor, for complete integration within the return.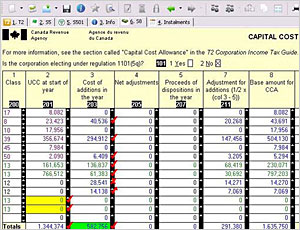 Client communications: Easy, fast & flexible.
Create professional mailing labels, engagement letters, and general client correspondence with information right from the T2 corporate tax return. Even better, take advantage of ProFile's customizable templates and prepare communications with specific details from your client's tax return.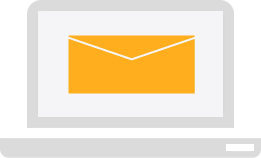 All the support you need – all year round.
Get free, year-round technical phone & email support from our ProFile technical experts. Whatever complex tax scenario you may have, we'll help you solve it. Plus, access a variety of self-serve support options including FAQs, in-product help, and free training.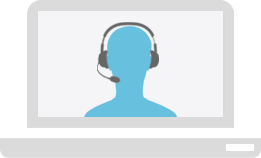 Important Offer Details, Disclaimers/Footnotes
1. Intuit reserves the right to limit the length of a given call or the number of calls from a given customer.
2. T1 carry forward files prepared with ProFile™, Taxprep™, Cantax™ or TurboTax™. T2 and FX carry forward files prepared with ProFile™, Taxprep™ and Cantax™. T3 carry forward files prepared with ProFile™ and Taxprep™.